10 Mistakes When Choosing Your Perfect Wedding Dress
Choosing the wedding dress is an exciting moment. When you are going for the wedding shopping it is really important to avoid these mistakes.
1. Shopping with too many friends

It's pretty common when the bride takes too many friends with her when choosing the wedding dress. The problem is that each of her friend has her own vision of the perfect wedding dress. The variety of those visions and views isn't good for the bride in any way. It's so easy to get confused and lose your identity. So to avoid all the mess you must take just one or two of your friends with you.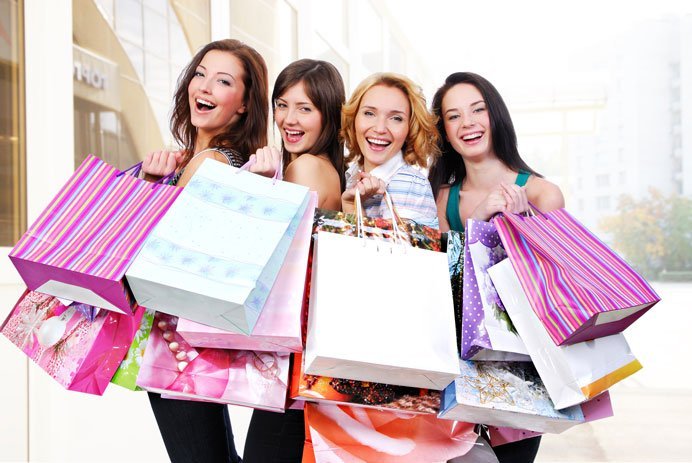 2. Purchasing the dress you can't enjoy

You try on a dress, you like it, it has perfect size, but you have doubts? You should never fall for entreaties, promotions or discounts. Take your time and think a few days. If you can imagine and see yourself in that dress, go back and buy it. But if you have any doubts – forget about it and look for another. Purchase your perfect dress with your heart. When you finally find the one – you will know that it's yours.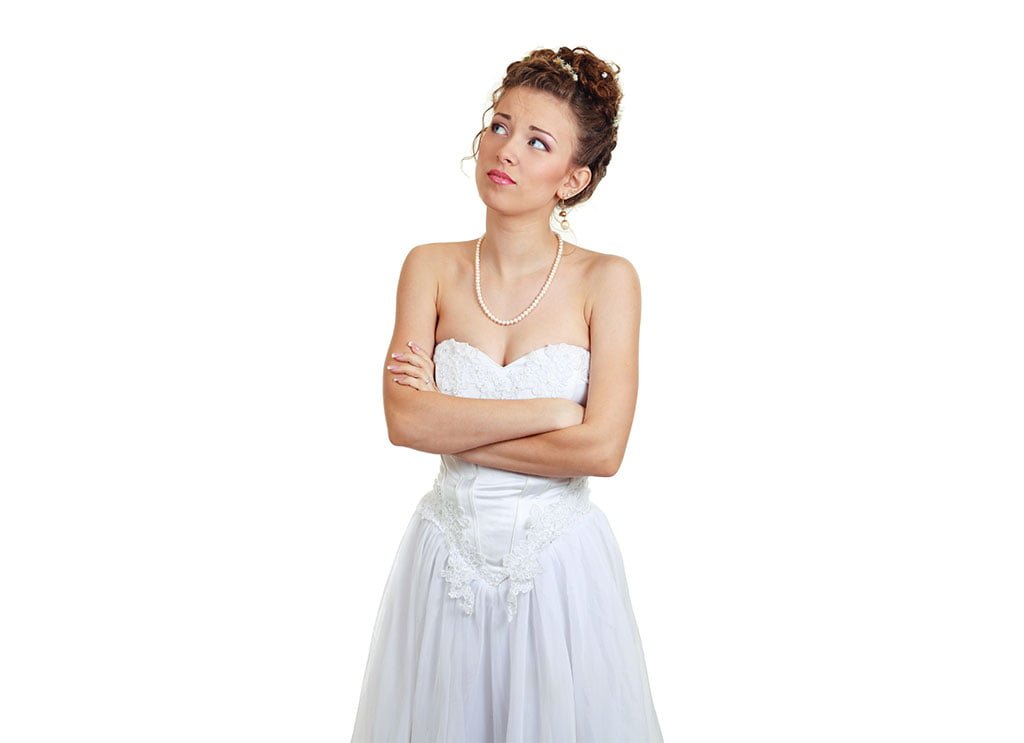 3. Trying on only one style dress

Always try on several dresses of different styles and colors. Perhaps the style of the dress that you would never put on could be the best for you. Try to listen to the opinion of the consultant. Professional opinion can help you find your perfect dress.
4. Purchasing the wedding dress too early
Don't buy the wedding dress in advance, for example, 1 year before the wedding. During this time there can be new dress collections released, your body may have changes or you may change your mind on the style of the wedding. So your purchased dress won't please you any more. You better start your searching 6 month before the wedding.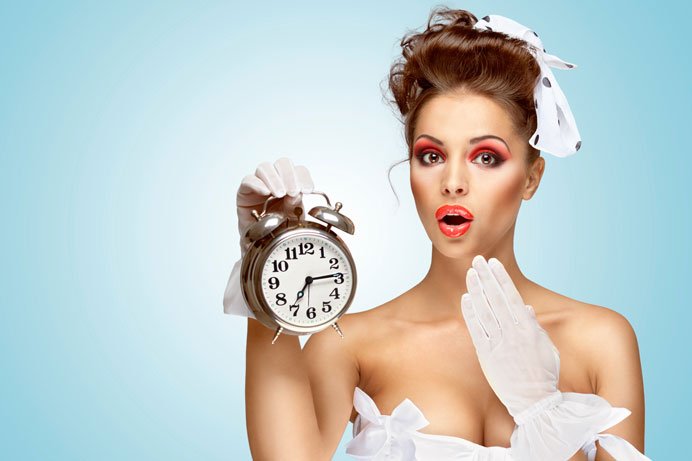 5. Purchasing the wedding dress too late
Try to avoid purchasing your wedding dress too late or a couple of days before the wedding. During this time you may have too many other things to think of, and there will be no time to choose your perfect dress and enjoy the unforgettable moments of search of your perfect wedding dress along with the accessories which also may take time for search and selection.
6. Missing of additional costs
Don't forget that in addition to your wedding dress you may have expenses for wedding accessories — a veil, footwear, jewelry and other things that complement your wedding image. You should also keep in mind the additional costs for adjustment of your wedding dress. So don't forget to include these additional costs in your list of expenses.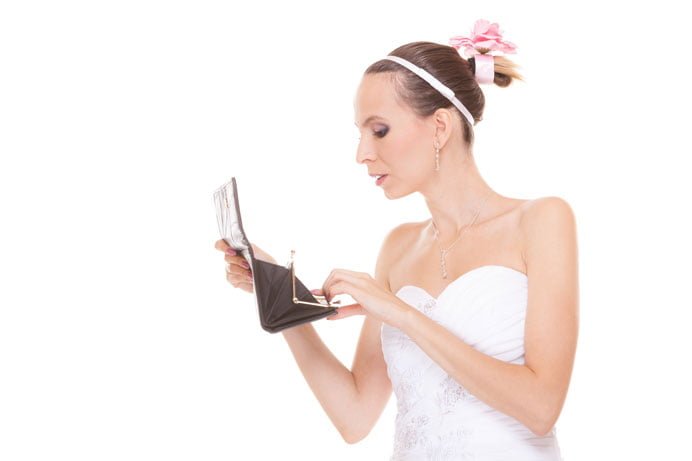 7. Falling for discounts and hot special offers
Sales and discounts are magic words which motivate to buy low-quality or even useless things. You don't have to buy a dress just because it has an incredible discount. The price should not be the decisive criterion when you choose your unique dress. But if you are really sure that the discounted dress is a perfect fit for you, go for it. Just make sure to check carefully that it wasn't damaged, used or dirty.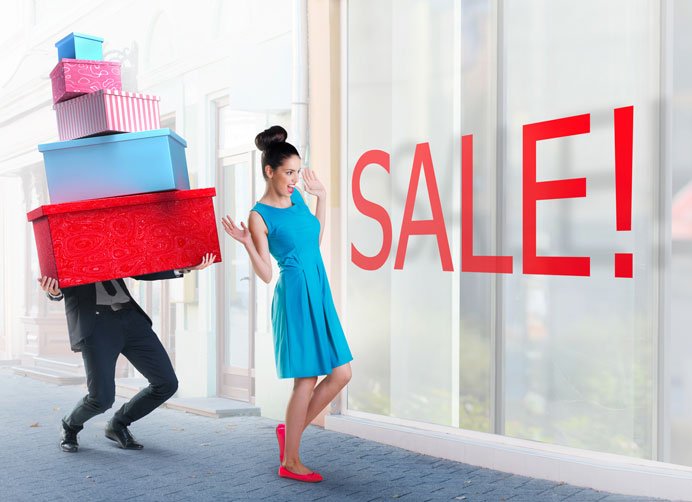 8. Considering too expensive dresses
Don't waste your time for trying on expensive dresses which can be out of your budget. Let's assume that there is an expensive dress which you really like, and now imagine how it would be difficult to find a similar one. From this moment all other dresses may seem ugly for you. So when you are in the wedding salon, you should immediately set the maximum price at which you are willing to purchase the dress.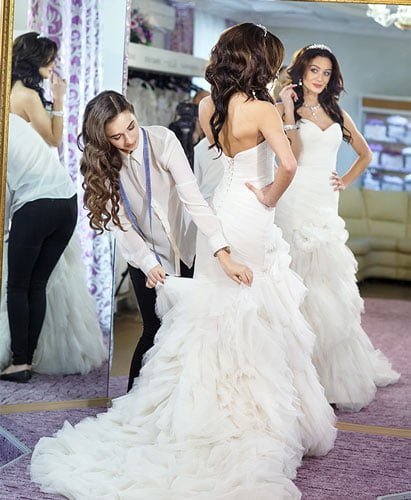 9. Trying on too many dresses
Trying different styles of wedding dresses is a great idea. But trying on too many dresses every day can only complicate the choice of dresses: they finally may seem to you the same. And it will be hard for you to remember what you liked the most. But trying on just a couple of dresses every day can dramatically narrow down the choices for you and help you make the purchase decision.
10. Purchasing a dress of the wrong size

Sometimes brides may purchase the wedding dress of a smaller size in order to get an additional incentive to weight loss. But it is the most widespread mistake. As a result you will not be able to put on this dress and it will show your body shortcomings. So if you decided to lose weight, you should lose weight first, and then choose the dress which fits your current size.