4 Awesome Tips For Picking The Perfect Wedding Gown
Because all brides look so lovely and adorable, the right choice of the wedding dress will emphasize their individuality and give them even more charming.
So, you have to choose the perfect wedding dress. First, look through many magazines and find out what is trending now to find out your preferences.
Every bride has her own taste and vision on how she should look like on the wedding day. Don't waste your time by reading dozens of wedding magazines to find out your perfect style. So, right after finding out your preferences you can go for wedding shopping and fitting. This is absolutely normal if your preferences change over time.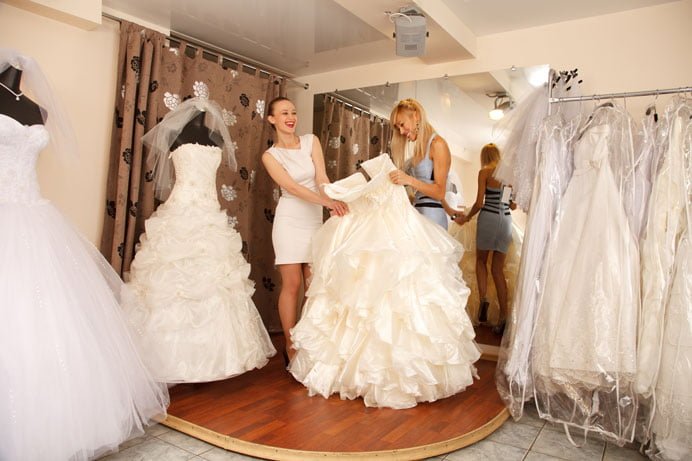 1. Color of the wedding dress
Classical white dress is perfectly suited for brides with light tone of skin. At the same time the hair color doesn't matter. White wedding dress can be good as for blondes as for brunettes equally well.
While too light tone of skin can merge with a snow-white dress. In this case it is better to choose milk or cream shade of dress to make a contrast look of the bride.
Dark-skinned brides also should not put on white dress, because it will create a very strong contrast, and the bride's beauty will remain unnoticed while too much attention will be paid for her white dress.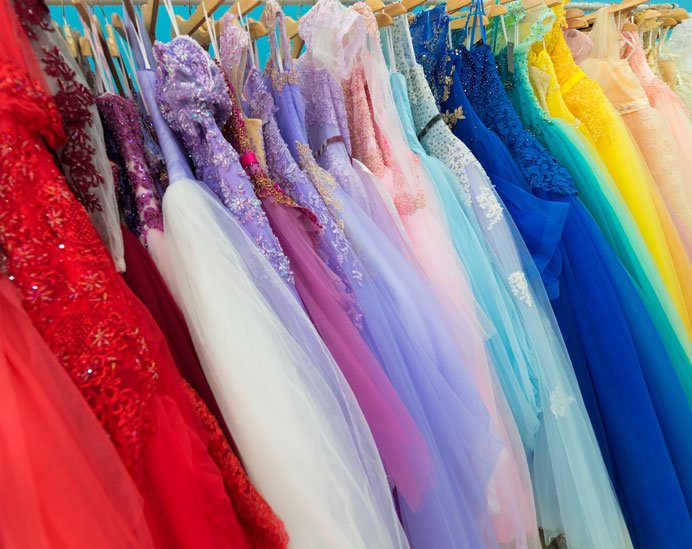 Ivory color is the most popular and universal shade. This color is well suited to girls with a very light skin. In contrast to the white dress, this tone will not make them whiter but accentuate the natural beauty of the bride. For black or dark-skinned girls this color will also fit perfectly.
Pink wedding dress is another perfect choice for girls with very light skin and for blondes. It's also good for dark-skinned or tanned brides.
Red wedding dress will look best on dark-skinned bride with dark hair color. This color is not good for girls with pink or reddish shade of skin. Well, the main thing is that you should feel comfortable in the red wedding dress.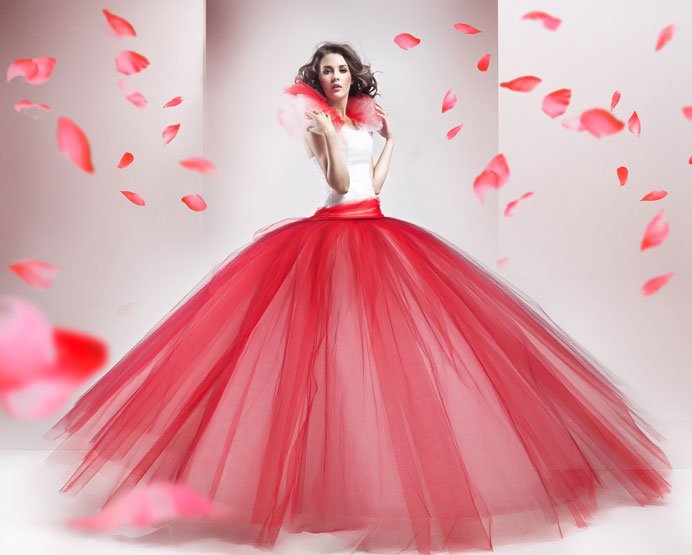 2. Silhouette of the wedding dress
There are some basic silhouettes of the wedding dress:
– Princess style
– Classic A-line silhouette
– Empire dress
– Mermaid silhouette
Princess style
The Princess style dress is with yards of skirt under which the petticoat with rings puts on. Such style suits thin girls of low growth. The Princess dress has several options of an arrangement of a skirt: at once from a waistline, or the waist is underestimated. It isn't necessary to choose of a dress with the underestimated waist for the girls of small growth. In his legs will seem short.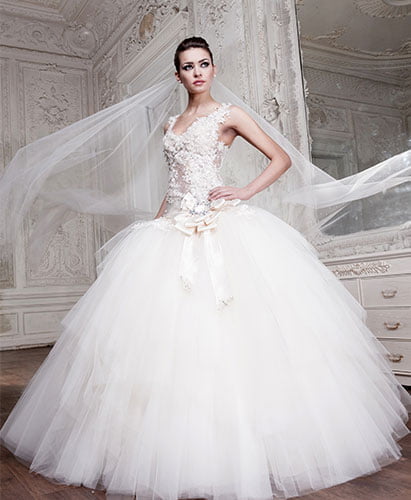 Classic A-line silhouette
The A-silhouette dress is a dress which gradually extends from top to bottom. Such silhouette is universal and it suits any girls. It slims fat girls, thin – will give elegance and tenderness. Such dress can be worn without petticoat, or with a soft petticoat without rings.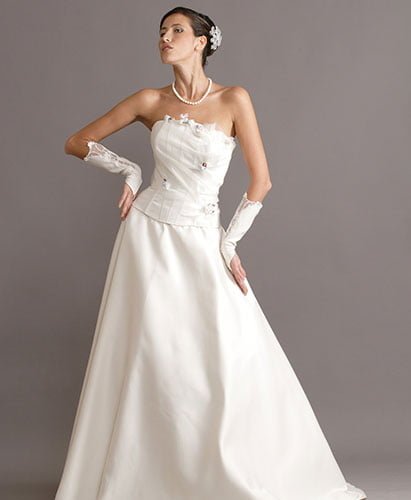 Empire style
The dress in the Empire style, this dress is made of light fabric tightened under the breast. This style is also called Greek because it was common in Ancient Greece. At the time of the Emperor Napoleon it was popular to imitate the style of antiquity and this style revived again. Such dress does not fit lush veil. It can be put on either a single-layer thin veil or tiara or hair decorate with fresh flowers.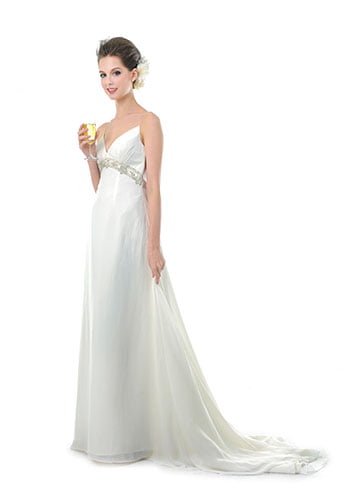 Mermaid style
Dress in the Mermaid style – narrow dress that extends downward. These dresses have to sit perfectly on the figure, perfect-fitting waist and hips. Normally fit tall girls with slim figure. This dress looks good on mature brides, it gives a special elegance and femininity, a young bride, it will be a little adult.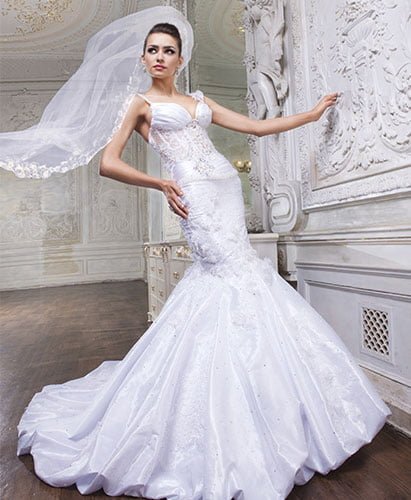 3. Dress Length
Usually, the dress must be 2 cm below the floor level, taking into account the height of wedding shoes. This dress will be comfortable to walk and dance. If the dress is to get to the floor, then it will be uncomfortable to walk, it will cling to the shoes and so on.
Short wedding dress is usually dress according to the theme wedding. If, for example, is a beach wedding or a wedding on a yacht.
The short wedding dress is usually put on depending on scope of a wedding. If for example, it is a beach wedding or a wedding on the yacht.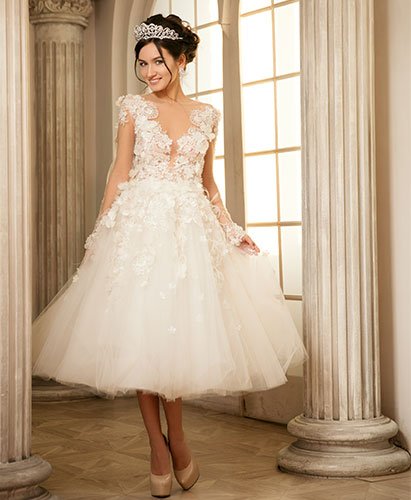 4. Accessories for a wedding dresses

Wedding accessories should emphasize the charm and tenderness of the bride, but never not overshadow her natural beauty. Therefore, choosing the wedding accessories and jewelry to consider some of the rules:
The unity of style. All the decorations on the bride should be made of the same material and be of the same style.
Unity of style. All jewelry on the bride has to be made of one material and to be one style.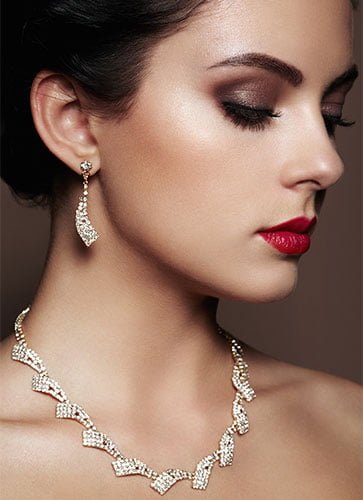 Jewelry has to be moderately. Do not overdo it with quantity of jewelry. You shouldn't put many rings since this day on your handle there has to be only one ringlet – wedding. If on a dress there are a lot of stones or a crystals, then it is possible to do also without necklace.
Color of jewelry has to be combined with tone of skin and a shade of hair and color of eyes well. It is also necessary to consider color of a dress, make-up type. All this together has to supplement harmoniously each other and create a uniform unique image.